Liberal Party (LP) senators will block the drastic increase in the Philippine National Police's fund for its anti-drug war campaign from P20 million to P900 million for 2018 unless it presents alternative strategies in the war against drugs.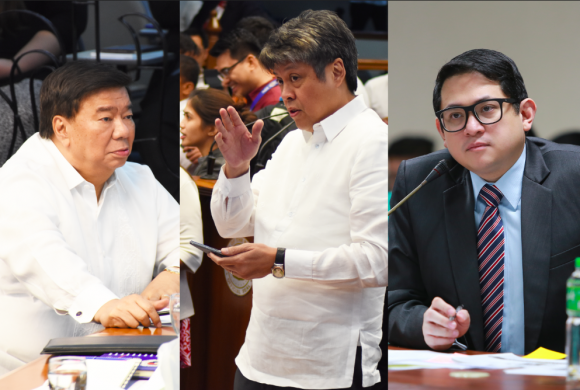 "We will reject the 4,400-percent increase in the budget for Oplan Tokhang (also called Oplan Double Barrel Reloaded) if the PNP will insist on continuing the oplan that has already claimed thousands of lives, including young victims," said Senate Minority Leader Franklin Drilon.
"Kailangan nating matiyak na ang pondong ito ay hindi ginagamit o gagamitin bilang pagkukunan ng gantimpala ng pamahalaan sa mga alagad ng batas para pumatay ng kapwa Pilipino sa madugo at mapang-abusong giyerang ito kontra droga," said Liberal Party president Sen. Francis Pangilinan.
Aside from presenting an alternative plan in its anti-drug war, the PNP must also come up with a concrete strategy on how to solve the thousands of extra-judicial killings (EJKs) in connection with the war against illegal drugs.
Last month, 17-year-old Kian Loyd delos Santos was killed during an anti-drug operation in Caloocan. Police claimed that Delos Santos fired back at them but a CCTV video footage shows two policemen dragging the victim before he was found dead nearby.
More recently, 19-year-old Carl Angelo Arnaiz, a former student of the University of the Philippines in Diliman, was killed after he allegedly exchanged gunfire with policemen after robbing a taxi driver in Caloocan City. However, forensic examination showed that Arnaiz, a consistent honor student since elementary, was handcuffed and was on his knees when he was shot two to three times in the chest.
The body of Reynaldo de Guzman, the 14-year-old companion of Arnaiz when he was last seen alive last Aug. 17, was discovered in Gapan, Nueva Ecija earlier this week. De Guzman sustained 30 stab wounds and his face was covered with packaging tape.
"Filipinos deserve better solutions to the drug menace. We should be capable of developing solutions that leverage on the strength our families, our communities and our passionate young Filipinos, instead of this overreliance on violence," said Sen. Bam Aquino. "Our taxes should be spent to empower Filipinos to overcome poverty and serve their communities, not on a bloody war that breeds fear and suffering."