MANILA – Liberal Senators on Wednesday voted "yes" to have barangay officials keep their posts in a holdover capacity, and to postpone the village and youth elections only if it would be held on May 2018 and if the power of the president to appoint barangay officials is removed.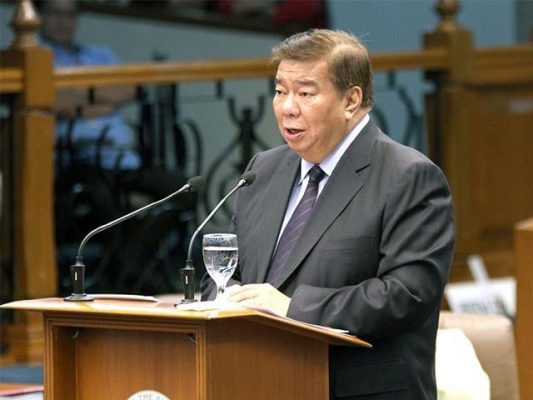 The proposal was put on the floor by Minority Leader Franklin Drilon Tuesday, September 19, as the Senate continued its deliberations on Senate Bill 1584 or "An Act Postponing the October 2017 Barangay and Sangguniang Kabataan Elections, Amending for the Purpose Republic Act 9164, as Amended by Republic Act 10923, and for Other Purposes."
Drilon explained that the minority bloc supported the measure "after the Senate accepted [its] proposal to delete the power of the President the power to remove, without any cause, barangay officials who would hold their positions in a holdover capacity."
Drilon clarified that Article X, Section 4 of the Constitution only gives the President the power of general supervision and not general control over local governments.
The amendment allowed barangay officials to remain in their post in a holdover capacity until their successors should have been elected and qualified.
"There is no better way than controlling the barangays than converting the barangays officials as casual employees without any security of tenure, if the president is given the power to appoint OICs as provided in the original version of the bill," Drilon said.
Senator Bam Aquino stands firmly against the appointment of barangay officials.
"We should not allow the appointment of barangay officials. Let's respect the Filipino people's right to choose their leaders and ensure that the barangay and SK elections finally pushes through in May 2018," added Aquino.
During the party caucus, Liberal president Senator Francis "Kiko" Pangilinan said: "We are concerned that giving the President the power to appoint barangay officers-in-charge will impede our democracy which calls for all citizens to duly elect their community leaders. We believe that following the Local Government Code provides for due process as mandated by our Constitution."
Moreover, in her comments to the committee report seeking postponement of the elections, detained Sen. Leila De Lima noted that the proposed appointment of barangay officials will consume a lot of time if the proper process is followed. She said this would be counterproductive given that the next elections is only months away.
Senate Bill 1584 seeks to postpone for the second time the barangay and SK elections.
Last 18 October 2016, President Duterte signed into law Republic Act 10923 postponing the elections set October 2016 to October 2017, with the intention of bolstering the execution of the war on drugs.
The Senate Committee on Electoral Reforms and People's Participation and the Senate Committee on Finance jointly prepared substitute Senate Bill 1584 aiming to re-schedule the barangay elections on October 2018.