The Duterte administration is hell-bent on using fear and violence to silence those who dare speak the truth to power. The recent attacks on judges, lawyers and ordinary citizens, and the veiled threats against students, teachers, and journalists, unmasks the real nature of this government: anti-democratic, anti-life, and anti-justice.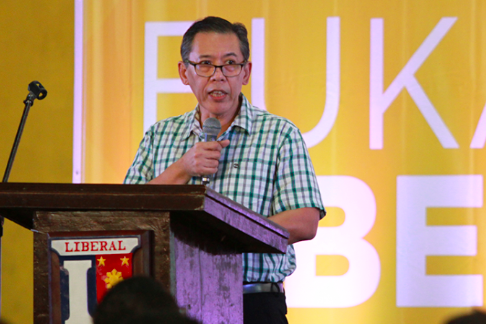 The PNP's admonition that students should not join anti-government protests, the AFP's claims that the CPP/NPA are recruiting members from schools and universities, and the PNP's recent "visit" to the office of a newspaper show how obsessed they are with making everyone conform. Instead of respecting our rights and freedoms, they are acting as if they have an absolute claim over us—that they can dictate how we think and restrict what we want to express.
The recent assaults on judges and lawyers are part of the same design to take over our lives. Executive Judge Edmundo Pintac of Ozamiz City is the fourth judge and the fourteenth lawyer to be attacked since July 1, 2016-most of them by men riding in tandem. He joins more than 20,000 other men, women and children who have fallen victim to a regime that has no respect for human lives.
The truth is that this government is "built on a foundation of lies." [1]
They tell us, "there's no such thing as EJK's," when we see our poor being killed left and right in the name of the War on Drugs. They tell us, "no one is invading our territory," when we see China taking over our seas and appropriating our fishermen's catch as their own. They tell us, "our legal system is working," when we see a different kind of justice supplanting it, blasting from the barrels of guns. They tell us, "we have a right to speak freely," when we see those who criticize the administration attacked by trolls, shut down, or put in jail They tell us, "it's all right to slut-shame women and put them down," when we know in our hearts that doing that just isn't right.
The truth is that this government is mounting a total war on our entire way of life, our freedoms that we fought so hard for, and our humanity. By feeding us constantly with lies, fear, and violence, they are forcing us to swallow the illusion that justice is being done and society is being protected-to conceal the truth that justice is only for the rich and powerful, that the police can act arbitrarily and with impunity, and that life is cheap and human dignity means nothing to them.
"Truth," it has been said, "is the power of the powerless." [2] We need to defend humanity and protect our way of life from being supplanted by a government obsessed with supplanting truth with lies and replacing justice based on reason with injustice from the barrels of guns
(SIGNED)
Atty. Jose Manuel "Chel" Diokno
9 October 2018
[1] Vaclav Havel, "The Power of the Powerless," available at https://www.nonviolent­conflict.org/resource/the-power-of-the-powerless/
[2] Jose W. Diokno, A NATION FOR OUR CHILDREN (1987).