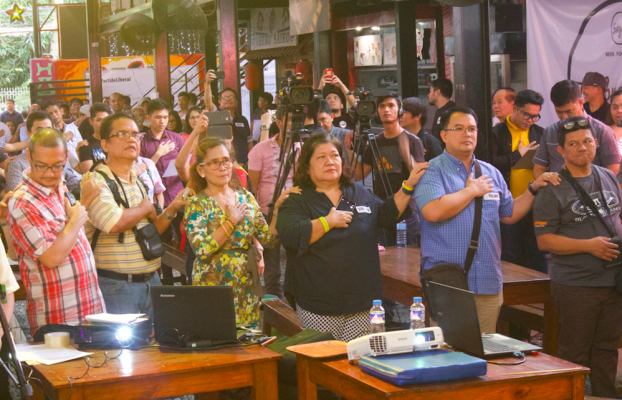 Dr. Vina Luna (not her real name), 51, is fed up with the administration's abuse of power, especially the wave of killings after President Duterte took office.
"I don't like what's happening in our country. Every time I see the news on TV, I get mad," she said during the oath-taking in Quezon City Friday.
Earlier, she recounted an incident last year while she was on board a bus and saw a victim shot dead on the street.
"I wanted to join people with the same feelings, with the same reactions," she said.
"Because we have to do something, otherwise, we will just wake up one day, and we're under, you know, he who is not to be named. I call him Voldemort. Remember, we have to use our good magic. It's about time we gather Dumbledore's army," she said, referring to the protagonists in the Harry Potter series of books and movies.
Nick Flores (not his real name), a senior citizen-farmer, said the last time he became part of an organization was in the 1970s when he joined the leftist Kabataang Makabayan (Patriotic Youth).
"Sumumpa muli tayo sa panibagong organisasyon na punung-puno ng pag-asa at karangalan (We take our oath again in this new organization full of hope and honor)," Flores said.
He said he feels that the times call for more active citizenship and that in joining Partido Liberal, he is accepting the challenge of fighting for what is right and against what is wrong.
"Pambihirang pagkakataon, o siguro historic, itong ating ginagawa. Kasi paulit-ulit nating sinasabi, iba ang sitwasyon ngayon. Kung baga, panahon ngayon ng kasinungalingan, balimbingan, patayan, tapos gusto tayong ibalik sa madilim na panahon. Nakakatakot talaga. Para sa akin, lalong challenging yan para sa partido (What we are doing is an extraordinary opportunity or maybe historic. Because we have repeatedly said, the situation is different now. In a way, these times are about lies, party-switching, killing, and now they want us to return to dark times. It's really scary. For me, this is extremely challenging to the party)," he said.
Flores also talked about rebuilding the party.
"Kasi ano po ang gagawin nating ngayon sa hinaharap? Bibigyan natin ng plataporma ang karaniwang tao: mga magsasaka, kabataan, mga manggagawa. Mag-oorganize tayo ng marami, daan-daan, sana libo pa na mga chapter (Because what will we do? We will give ordinary people a platform: farmers, youth, workers. We will organize many, hundreds, and perhaps thousands of chapters)," he said.
"People's party. Yung chapter ng mga karaniwang mamamayan na talagang magiging plataporma at network ng mga kwentuhan ng katotohanan, plataporma ng paglaban ng mamamayan (Chapters of ordinary citizens that will truly become platforms and networks of sharing stories of truth, platforms of the fight of citizens)," he added.
Luna and Flores are among the almost 600 non-politicians who recently joined the party.
After many of its politician-members left the party, its president Sen. Francis Pangilinan last year opened the party to non-politicians.
Erin Tanada, Partido Liberal's vice president for external affairs, who addressed the new members at the Quezon City oath-taking, said he feels a sense of "déjà vu."
He compared these times to the early 1970s, soon before and soon after the late dictator President Ferdinand Marcos declared martial law.
That time, before martial law was declared, prices of basic goods were rising, moves to change the Constitution were afoot, and the media, the political opposition, and other democratic institutions were under attack, said the former Quezon province representative.
"Lumaban ang Partido Liberal noon. Malaki ang tungkulin ng lahat, hindi lang ng mga politiko (The party fought then. Everyone's role is important, not just politicians')," he stressed.
"Kaya OK lang umalis ang mga politiko sa partido, dahil nandito tayo (It's OK if the politicians left the party because we are here)," Tanada said.
Senator Franklin Drilon, who was also at the Quezon City oath-taking, told the new Liberals about the need to fight against moves by the House of Representatives to change the Constitution through a constituent assembly or con-ass.