MANILA – Joining the growing call for aid for farmers affected by the Rice Tariffication Law, Liberal Party lawmakers on Wednesday filed a joint resolution authorizing the use of the unappropriated Rice Competitiveness Enhancement Fund (RCEF) and tariffs collected under the law as direct emergency cash assistance.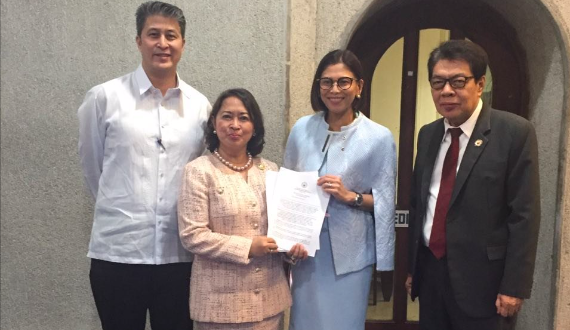 "We have to immediately switch gears now that it is evident that the RCEF, as it is, is not enough to cushion the effects of the Rice Tariffication Law. What our farmers need is immediate cash assistance, not loans that will only add burden to the smallholder farmers," said Rep. Stella Quimbo (LP, Marikina-2nd District).
At the September 3 Senate hearing, it was revealed that P4 billion is still left of the RCEF available for release and P9.19 billion has been collected by the Bureau of Customs as tariff revenues from rice importation.
"We see no reason why we can't use this P13 billion to immediately give aid to our farmers who need it the most. There is no point to earning from imports if our people won't benefit from it, especially the most affected," said Quimbo.
As rice farmers complained of low selling price of palay (unhusked rice), Quimbo, a former official of the Philippine Competition Commission (PCC), called on the PCC to probe rice millers and traders for possible violation of the Philippine Competition Act by abusing farmers through "unfair" and "severe" reduction of palay prices.


A counterpart joint resolution has already been filed in the Senate last September 5, authored by Senator Francis "Kiko" Pangilinan, vice chairman of the Senate Committee on Agriculture and Food and former food security undersecretary.
Pangilinan, who is also Liberal Party president, called for an investigation on the effects of the Rice Tariffication Law last August 13, after rice farmers reported that palayprices were being bought at prices lower than their production cost of P12 per kilo, sometimes as low as P7 per kilo, or a loss of P5 per kilo.
"Kailangan ng paspasang solusyon sa hinaharap ngayon ng ating mga magsasaka. Maaaring para sa atin ay maliit lang ang limang piso, pero ang limang pisong ito ang magtatakda kung makakakain ba o magugutom ang ating mga magsasaka (We need an urgent solution to the problems our farmers are currently facing. P5 might be small for us, but for our farmers, P5 could mean whether or not they will go hungry)," said Rep. Josephine Ramirez-Sato (LP, Occidental Mindoro-Lone District).
The Department of Agriculture earlier launched its intervention in the form of an interest-free P15,000 loan to farmers farming one hectare and below. But the LP representatives' joint resolution points out that this will help only 100,000 of the 2.11 million affected rice farmers.
"There is no point to interventions that will benefit only a small portion of those affected. We need something direct, immediate, and large-scale," Sato said.
A joint resolution requires the approval of both chambers of Congress and, once signed by the President, becomes a law. It is most commonly used for emergency appropriations. 
"We see this as an opportunity to band together and show solidarity with our farmers. We hope that all sectors of government share our vision. Nananawagan kami sa aming kapwa mambabatas para sa kagyat na pag-apruba sa resolution na ito. Kailangan nating magkaisa sa lalong madaling panahon upang masigurong hindi magugutom ang ating mga magsasaka (We call on our fellow lawmakers for the immediate approval of this resolution. We need to immediately unite to make sure that our farmers will not go hungry)," said Rep. Jose Christopher "Kit" Belmonte (LP, Quezon City-6th District), who is also LP secretary general.
Five months into the passage of the Rice Tariffication Law, farmgate prices of palay plummeted by at least 17.48%, with farmers from Central Luzon to Mindanao reporting palay prices at P7-P14 per kilo due to the influx of imported rice.
The Rice Tariffication Law was signed last February 2019 as response to the weeks-long shortage of cheap government rice toward the end of 2018.
DOWNLOAD - Joint Resolution No 15 on the use of Rice Competitiveness Enhancement Fund