Ilocos Norte Governor Imee Marcos on Tuesday apologized to congressmen for earlier saying that the "yellow forces" were enticing lawmakers with P100 million to ensure that she would be detained.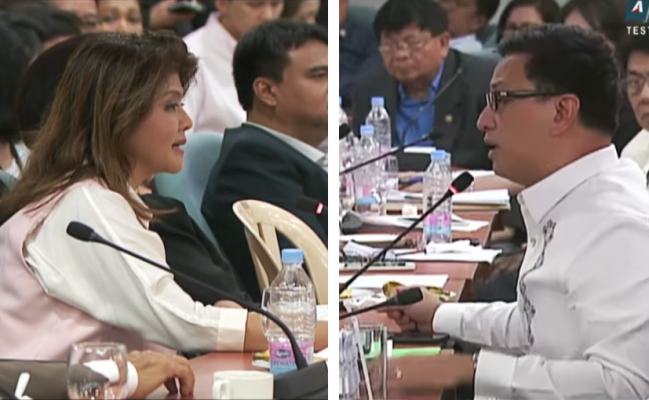 "I withdraw the accusation that P100 million circulated…Hindi po totoo iyon at ako ay nagpapaumanhin kung nasaktan ko ang members ng Congress (That's not true and I apologize if I hurt members of Congress)," said Marcos, who faced the congressional panel looking into alleged anomalous purchase of vehicles worth P66.45 million using funds from the tobacco excise tax.
At the hearing, Deputy Speaker Romero Federico Quimbo (Liberal Party, 2nd District) asked the eldest daughter of the late dictator about the alleged P100 million and to name her source of information.
"The party does not have P100 million for this," Quimbo said.
"Ang pag-aakusa ng katiwalian ay hindi na bago sa pamilya ko at nakikita naman natin na tuloy-tuloy pa rin kaya (Accusations of corruption are not new to my family and we can see that it continues)," Marcos said.
To which, Quimbo replied: "Naiintindihan ko po kaya kami rin po ay wag nyong babahiran ng dungis (I understand, that's why you should also not taint us)."
Nevertheless, Marcos refused to give details about her supposed source.
Majority Leader Rodolfo Farinas threatened to cite her in contempt if she does not reveal her source.
Quimbo, a member of the political opposition LP, whose political color is yellow, lamented that the party has often been used as "punching bag."
Marcos's brother, former Senator Ferdinand "Bongbong" Marcos, has a pending electoral protest against Vice President Leni Robredo, Liberal Party chairperson.
Marcos was subpoenaed by the committee on good government and public accountability to attend Tuesday's hearing and shed light on the controversy.
Rep. Johnny Pimentel, chairperson of the committee, had threatened to arrest and detain Marcos if she does not show up.
Six employees of the Ilocos Norte provincial government had been detained at the Batasan complex since May 29 after being cited in contempt for being in evasive in their responses during the previous hearings.