The Liberal Party (LP) has unanimously adopted a resolution condemning the continued political persecution of partymate Senator Leila M. de Lima, and creating a task group to support her legal, legislative, and other work-related concerns.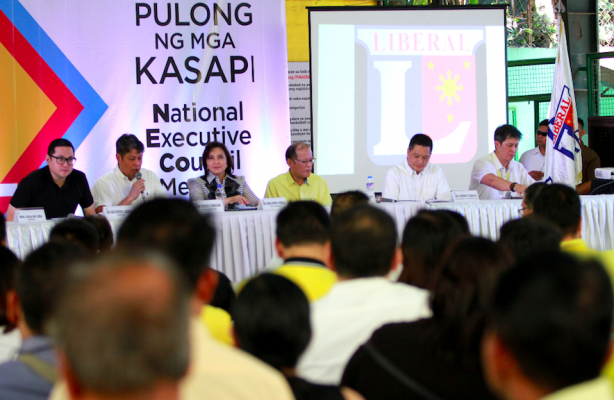 In filing Resolution No. NECO-2018-02, LP reiterated its call for De Lima's release and urged its National Elective Council (NECO, a group of party leaders) to consider her political imprisonment as a serious concern that needs urgent action.
"Her arrest and continuing incarceration have been preceded and accompanied by a vicious and unprecedented campaign of personal vilification, character-assassination, and slut-shaming from no less than the Philippine president and his allies," the resolution said.
"There is no doubt that the personal attacks, political persecution, and unjust detention that Senator De Lima has been suffering are inextricably connected to her staunch and outspoken criticisms of the current administration's so-called war on drugs and other anti-human rights policies," it added.
LP maintained that De Lima's unjust detention was only caused by Mr. Duterte's personal vendetta against her because she, as then chair of the Senate Committee on Justice and Human Rights, led the Senate investigation into the rampant extrajudicial killings in his bloody war on drugs.
At the time of writing of the said resolution, the former justice secretary has been in arbitrary detention for 580 days at the headquarters of the Philippine National Police (PNP) in Camp Crame, Quezon City, after she surrendered to arresting authorities on Feb. 24, 2017.
LP proposed that the task group created within the Party should closely coordinate with De Lima, her office, defense team, and other individuals assisting her with work-related concerns to help improve her personal and working conditions.
Aside from calling for her release, LP also echoed the calls of various organizations worldwide for the observance of fair and impartial trial of the senator's cases, for provision of adequate personal security, and for immediate removal of undue restrictions on her work conditions, among others.
"The PNP has not allowed any foreign guest to visit her since July 2017, or more than a year ago, despite the observance of protocols. In her court appearances, she has been blocked by her police escorts from interacting – much less greeting – her supporters and the members of the media.
"The courts, including the Supreme Court, have not allowed her legislative furlough to attend important sessions of the Senate, while the PNP has prevented her from presiding the public hearings of the committee that she heads," LP noted, citing undue restrictions De Lima is facing in her current situation.
The dominant opposition political party said De Lima should be commended for her indomitable spirit, moral courage, and her dedication to fulfill her mandate as a senator despite the growing isolation against her.
"Despite her current situation, Senator De Lima remains a highly productive legislator," LP said, noting that she has authored 118 bills and 120 proposed resolutions as of September 21, 2018.
"Proving that her voice cannot be silenced, she likewise regularly issues commentaries on burning issues of the day, having released 385 'dispatches from Crame', as of 21 September 2018, not to mention countless messages and speeches intended for nationally and globally important occasions and events," it added.
Note that ahead of De Lima's first anniversary in detention last February 14, LP called for De Lima's release from detention saying that her experience was a "classic case of 'nagmahal sa bayan, sinaktan, kinulong, pinagkakaitan ng karapatan.'"
Aside from LP, other organizations and personalities who expressed their support for De Lima include the European Parliament, the Inter-Parliamentary Union, Human Rights Watch, Amnesty International, Liberal International, ASEAN Parliamentarians for Human Rights, and various local groups and personalities.