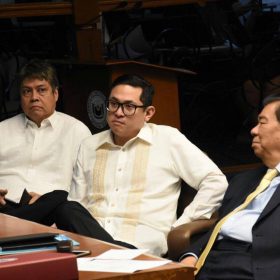 Partido Liberal senators on Thursday slammed Ferdinand Marcos Jr. for questioning the credibility of the Presidential Electoral Tribunal (PET), whom he charged of being unfair in his election protest against Vice President Leni Robredo.
"Hindi maganda na kwestyunin mo ang kredibilidad ng PET kung hindi pabor sa iyo ang mga desisyon," said Partido Liberal president Sen. Francis Pangilinan.
Sen. Bam Aquino, for his part, said it is unfair for Marcos to cast doubt on the integrity of the PET, composed of Supreme Court justices, when decisions do not go his way.
"Bakit noong puro pabor sa kanya ang desisyon, may narinig ba siyang reklamo mula kay Vice President Leni Robredo," said Sen. Aquino.
Sen. Franklin Drilon said Marcos must learn to accept the decision of the PET, whether adverse or in his favor.
"It's part of our judicial process. Sometimes, we may get the short end of the stick, but that's the way court processes go and as a former lawmaker, he should know better," said Sen. Drilon.
In September, Marcos's camp lauded the PET after it denied with finality the bid of Vice President Robredo to reverse its earlier ruling finding sufficiency in Marcos's election protest. Now he wants to have the PET chairperson replaced.