MANILA — Philippine Senator Leila M. de Lima, who is currently detained on politically-motivated charges, found new allies in a delegation from the Women's Caucus of the Council of Asian Liberals and Democrats (CALD) who visited her today in the Philippine National Police (PNP) Custodial Center in Camp Crame, Quezon City. CALD is the only alliance of liberal and democratic parties in Asia, with members from 12 countries across the region.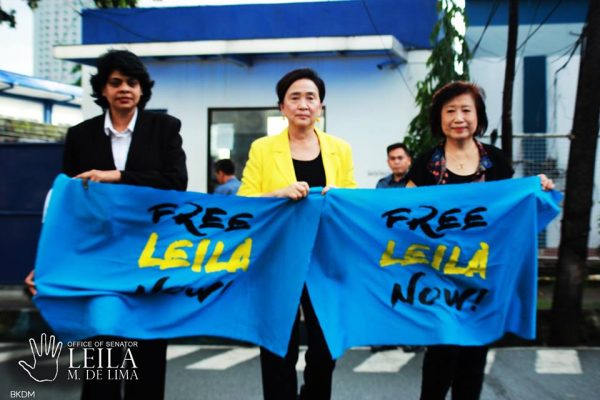 The delegation of Asian women leaders vowed to fight with Senator de Lima as President Rodrigo Duterte's brutal war on drugs, which the senator strongly opposes, rages on – resulting in thousands of death, including those of innocent children and civilians.
"We call on the Philippine authorities to immediately release Senator de Lima by withdrawing the drug trafficking charges against her. The charges do not stand even a cursory legal scrutiny, having been based on conflicting testimonies of criminals who were subsequently absolved of drug charges after they agreed to be prosecution witnesses," said Emily Lau, a former legislator who played a crucial role in Hong Kong's umbrella movement.
"Clearly, this is a case of political persecution resulting from Senator de Lima's staunch opposition to extra-judicial killings, and her continuing detention is a travesty of justice. At the very least, she should be allowed to post bail given the weakness of the evidence against her", she added.
The European Union (EU), Inter-Parliamentary Union (IPU), Liberal International (LI) are just some of the international institutions that previously visited Senator de Lima in the detention center which either expressed deep concerns on the circumstances leading to the senator's arrest or called for her immediate release.
Senator de Lima, who has been in detention since 24 February this year, filed a petition in the Supreme Court to nullify drug cases filed against her before three regional trial courts where she also previously filed a motion to quash.
She argued in these petitions that the government cases against her should be dismissed due to lack of jurisdiction, absence of evidence, and for being largely based on testimonies of ineligible witnesses.
On February 25 in Bangkok, Thailand, CALD adopted Resolution No. 1 S. 2017 expressing strong concerns over Senator de Lima's arrest and detention as it called for the immediate review of the charges hurled against her. It noted that the charges against Senator de Lima could be part of the Duterte administration's political vendetta against her.
During the CALD Women's Caucus Conference in Taipei, Taiwan last August 11-12, CALD passed Resolution No. 3, S. 2017 reiterating its strong concerns over the continuing detention of Senator de Lima as it noted the misogynistic attacks against her meant to "destroy her reputation, dignity and womanhood" which continue unabated even while she is in detention.
"We implore the courts to rule on the petitions of Senator de Lima in accordance with the right to fair and speedy trial, which is recognized in both the Philippine constitution and the International Covenant on Civil and Political Rights (ICCPR), where the Philippines is a contracting party", said CALD Women's Caucus Chairperson Jayanthi Balaguru, who is also a litigator in Malaysia.
"Every day that Senator de Lima spends in jail as a political prisoner is an affront to human rights, rule of law and public accountability – fundamental principles that the Philippines prides itself on as a democratic country", she said.
Maysing Yang, vice president of the Taiwan Foundation for Democracy (TFD) and International Network of Liberal Women (INLW), likewise appealed to the Philippine Senate leadership and to the courts to grant Senator de Lima's request to participate in important legislative deliberations.
"As a duly elected senator of the Philippines, she should be afforded the right to fully carry out her legislative duties, including the right to cast her vote on legislative bills, especially since she is not yet convicted of any wrongdoing", said Yang.
"Denying her this right is a great disservice to the more than 14 million Filipinos who put their trust in her in the last elections", she added. (30)
# # #
If you would like more information about this matter, please contact Atty. Jayanthi Devi Balaguru, CALD Women's Caucus Chairperson, at +60 12 292 8978 or email at [email protected].